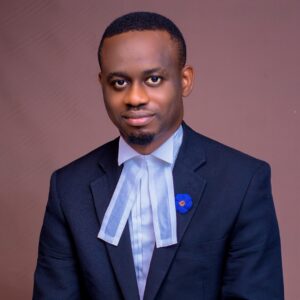 'Tosin Akinyemi obtained his LLB degree from the University of Abuja, Nigeria; and proceeded to the Nigerian Law School where he obtained his BL degree.
After his call to the Nigerian bar, he gained experience in mainstream legal practice – particularly during his time at Idowu Sofola & Co, Lagos; and W.A Aladedutire & Co, Ondo State. However, his longtime interest in sports law made him acquire knowledge in the area of international sports law and specialize in the area of practice.
Since then, he has represented clients as regards disputes before FIFA and domestic tribunals; advised clubs and players on compliance with sports regulations and on disciplinary matters; provided legal services in respect of sporting and commercial contracts; among others.
He has been part of the firm's team that has provided legal services to clients such as a renowned Belgian football Coach; a Super Eagles player; a former Super Falcons' player, some African players from Ghana, Burkina Faso, Mali, Benin Republic, etc; as well as some league and non-league football clubs in Nigeria.
He has also written numerous articles on sports law which have been published on various platforms, and regularly speaks on contemporary issues at conferences of professional bodies & tertiary institutions in Nigeria.
Outside law practice, he loves to listen to music, write, watch football matches, and engage in community service.