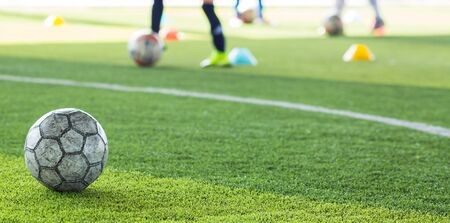 Football Contracts – Some Common Errors Often Made by Football Club Owners in Nigeria
Introduction
In the course of practice, I have been privileged to examine football employment contracts and representative contracts of parties. There some common errors I have generally noticed in some of such contracts, which this article seeks to address.
The Instances of Errors
It is common knowledge that most clubs and academies in Nigeria (especially privately-owned) are set up for the transfer of players to foreign clubs, more than for sporting successes. As such, many club owners are willing to invest in club facilities as well as cover all traveling and incidental expenses of a player who is to go abroad for a trial or expressly sign a football contract.
The huge amount of investments often makes such clubs/the owners tie the player down to a contract so as to get a maximum return on their investment. While it is commendable that such steps are often taken, there are two particular errors which have been noticed in some of such contracts:
Inclusion of intermediary/agency services in the same football employment contract of a player. Some of such contracts wrongly contain clauses that provide that the club/owner covenants to provide Intermediary services for the player, and consequently earn from the future remunerations of the player;
At other times when there is a separate football employment contract and a separate intermediary/agency contract, both contracts are often signed by the same person who is an official of that club or academy.
It is worthy to note that the two instances above are wrong because "officials" are not allowed to provide agency/intermediary services, pursuant to FIFA Regulations. As such, non-compliance may make a club owner end up losing an investment while attempting to maximize returns.
The Relevant Provisions of FIFA Regulations
Definition No 13 of FIFA Statutes 2019 provides thus:
"Official: any board member (including the members of the Council), committee member, referee and assistant referee, coach, trainer and any other person responsible for technical, medical and administrative matters in FIFA, a confederation, a member association, a league or a club as well as all other persons obliged to comply with the FIFA Statutes (except players and intermediaries)."
It can be seen from the definition above that officials include board members, committee members… or any other person responsible for technical, medical or administrative matters in a club.
The definition section of the Regulations on Working With Intermediaries (2015), defines an Intermediary as:
"A natural or legal person who, for a fee or free of charge, represents players and/or clubs in negotiations with a view to concluding an employment contract or represents clubs in negotiations with a view to concluding a transfer agreement.
NB: Terms referring to natural persons are applicable to both genders as well as to legal persons. Any term in the singular applies to the plural and vice-versa."
Having seen who is an "official" and who is an "Intermediary" as defined by FIFA Regulations, which provision of FIFA Regulations prohibits an official from providing Intermediary services? See Article 2, Paragraph 4 of the Regulations On Working With Intermediaries (2015), which provides that:
"The engagement of Officials, as defined in point 11 of the Definitions section of the FIFA Statutes, as intermediaries by players and clubs is prohibited."
Conclusion
The spirit behind this prohibition in my view, is to avoid circumstances of conflict of interests that may affect players' careers and a compromise of integrity within the game of football. It is therefore important to always consider the above regulations so as to avoid loopholes that may cause contracts that are in breach to become set aside, and a violator possibly sanctioned by FIFA.
Written by: 'Tosin Akinyemi
(DISCLAIMER: This article does not constitute legal advice from the firm. For more information or consultation, you may send an email to info@sportlicitors.com or call +2348145266523.)