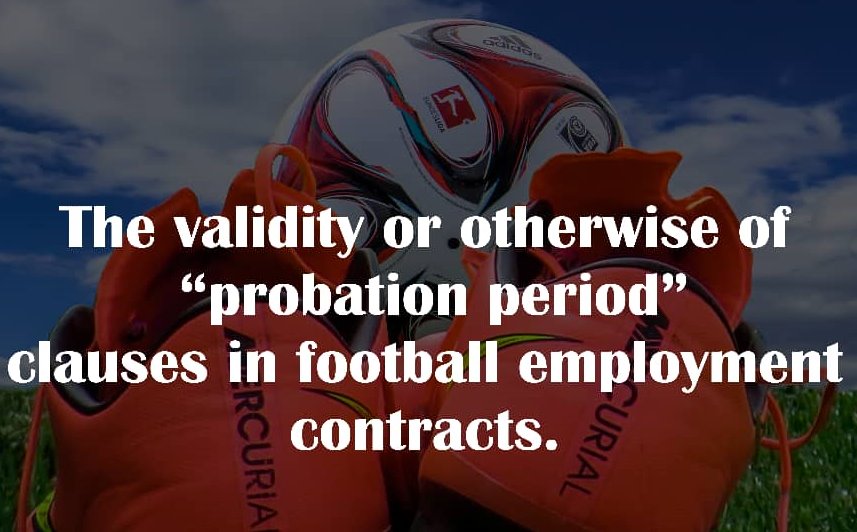 The Validity or Otherwise Of "Probation Period" Clauses In Football Employment Contracts
A "probation period" clause is such that allows a party to an employment contract (oftentimes the employer) to unilaterally terminate the contract during an agreed period, without any obligation to give a reason to the other party or pay compensation. This is often a short period starting at the commencement of the contract.
While national labour laws of most countries allow for probation period clauses in employment contracts, the jurisprudence of FIFA's Dispute Resolution Chamber (DRC) differs. Based on its previous decisions, if a football employment contract provides for a probation period during which a party can unilaterally terminate the contract, such a clause shall be held to be invalid.
As seen in the grounds of decisions contained in previous awards of FIFA DRC, "probation period" clauses often favour only employers because football clubs are usually with the higher bargaining power during negotiations (See DRC Decision of 17 August 2006, No. 86833.) Such clauses have been held to violate the spirit of the Regulations on The Status & Transfer of Players (RSTP), which seeks to ensure contractual stability in football.
It is perhaps easy to further see the rationale behind the jurisprudence of FIFA. One of the factors that often motivates the inclusion of a "probation period" clause by a club, is the fear of a player's "poor performance". This contradicts FIFA's principle that provides that football employment contracts cannot be terminated based on poor performance.
While it will be interesting to know FIFA's possible willingness to decide in the future that a "probation period" clause is valid (if the club concerned can firmly establish that the clause was well-drafted in such a manner that it is not potestative in nature), at the moment, however, "probation period" clauses remain invalid.
Nevertheless, if a football club still intends to mitigate the risk of signing a player that is unproven or who it has some reservations about, there are other kind of clauses acceptable by FIFA which can be utilized, other than the "probation period" clauses.
Written by: 'Tosin Akinyemi.
(DISCLAIMER: This article does not constitute legal advice from the firm. For more information or consultation, you may send an email to info@sportlicitors.com or call +2348145266523.)